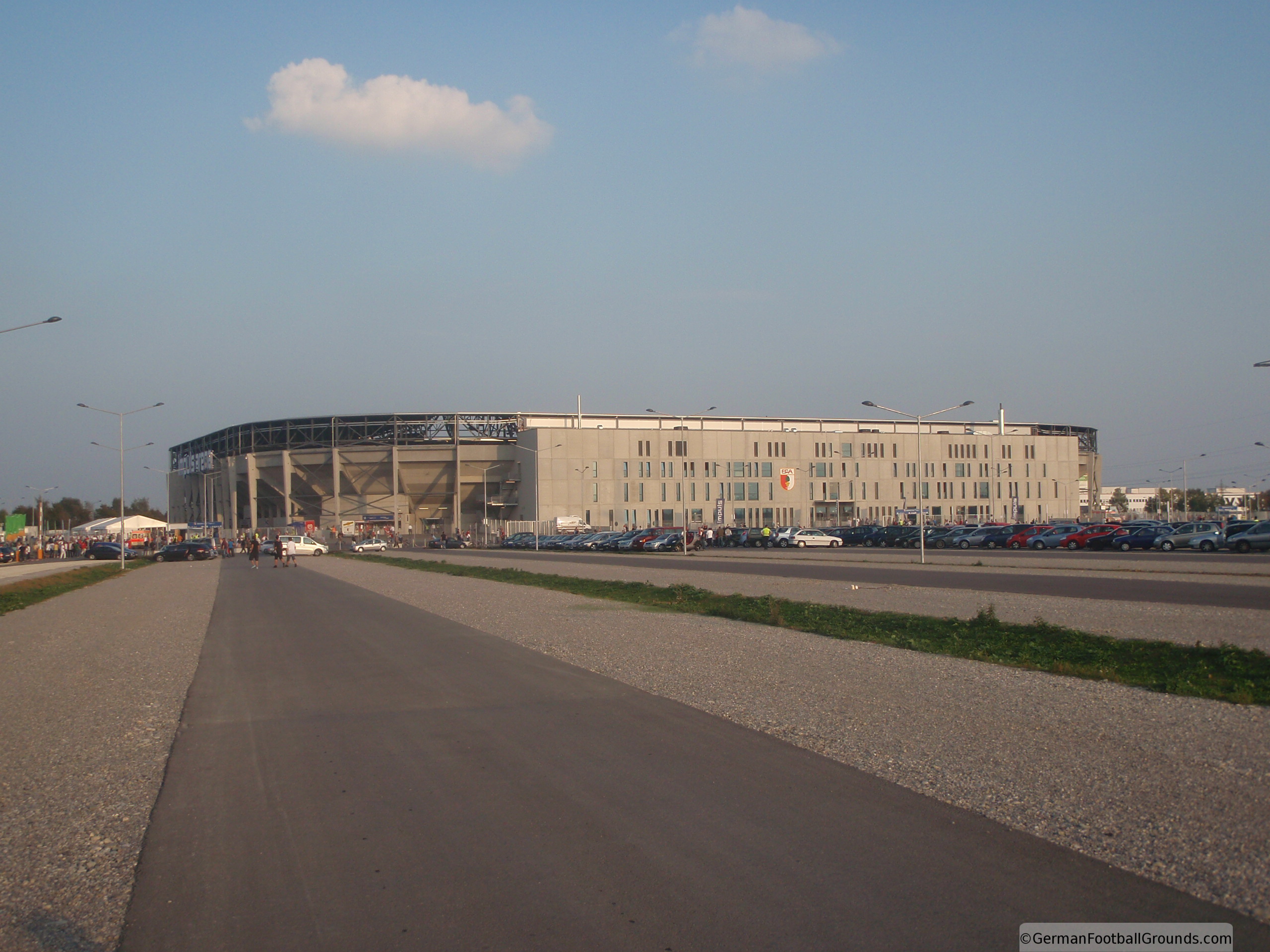 Overview
Club name: FC Augsburg
Ground name: SGL Arena
Year ground opened: 2009
Capacity: 30,660 (28,367 all seated)
Web Site: http://www.fcaugsburg.de/
The SGL Arena
SGL Arena is actually already the third name the stadium of FC Augsburg carries, although it has only opened in 2009. SGL is a manufacturer of carbon products, previously the stadium was named 'Augsburg Arena' und 'impuls arena'. While the previous stadium, the Rosenaustadion, was once the biggest stadium in southern Germany, the SGL Arena is not that outstanding. It is one of the typical new stadiums in Germany, with a location quite far away from the city center and a capacity of around 30.000 spectators (30,660 to be exact), however it is built in a modular fashion and can be extended to accomodate 49,000 spectators. During international matches, the capacity only drops slightly, to 28,367.
The stadium is built of stands of identical height with closed corners and is fully covered. The stading terrace for the Augsburg supporters is located in the north (blocks K, L, M, N, O), visiting supporters are located in blocks Y (standing), X and W (seating) in the southeast corner. The main stand features some executive boxes on top, the opposite stand spells 'FCA' in the seats.
How To Get There...
By Car & Where To Park
If you come by car, the address of the SGL Arena is "Bürgermeister-Ulrich-Straße 90, 86199 Augsburg, Deutschland".
There is only limited parking space available at the stadium. Close to the stadium, parking lots P1, P4 and P6 are available (non-free) for parking on a per day basis, thus you would follow the respective signs. Another option is to park at the fair and take the shuttle bus, which supposedly is included in the parking fee. If you do not want to pay for parking but are arriving by car, have a good look at a map and try your luck. Especially if you're not afraid to walk a bit you normally can find reasonable parking spots in a walkable distance.
By Public Transportation
The stadium is around 4 miles away from the main station, so unless you have quite a lot of time on your hands, don't walk it. Anyway, there is very good tram connection from the main station, just take the 'Stadionlinie' (8) till the stop 'Fußball-Arena', which should take around 20 minutes. After the game, trams run back to the stadium as necessary, in a 2 to 3 minute interval. The good thing, if you already have a ticket for the game, is that you can use all buses and trams from the Ausgburg transprot association (Augsburger Verkehrsverbund (AVV)) for free. If not, a single ride costs around 2,50 € (2 GBP) and if you only go to the stadium and back, you're better off with two single tickets instead of a day ticket for 5,80 € (around 4,85 GBP).
Walking directions
The stadium is about 4 miles away from the main station and the walk offers no sights to take in, so you better skip it. Otherwise, have a look at the route on Google Maps.
Admission price
These are normal ticket prices, just for your orientation. For top games, expect an extra charge of 2 € (standing space) or 4 € (seating space).
Tickets can be bought directly via Leipzig's ticket shop. If a game is sold out, you can try your luck on viagogo.
Standing places:

Blocks K, L, M, N, O (north stand): 13 €

Seats:

Blocks I, J (family seating, northwest corner): Only for 1 adult (29 €) and 1 to 5 children (8 € each)
Blocks A, Y, Z (south stand): 23 €
Blocks B,C,P,Q,R,V (corners): 29 €
Blocks D, H, S, T, U (main (sides) and opposite main): 39 €
Last updated 06.05.2014
Average Attendance
Augsburg only play in the Bundesliga since the 2011/12 season. Before, there stadium was rarely sold out, since then, nearly half the games are sold out, the rest are quite packed. Expect difficulties for games against the top teams, as well as against VfB Stuttgart. Apart from that, you should be able to get tickets through Augsburg's ticket shop. If you difficulties to get tickets for a game, you can try Augsburg's ticket exchange in cooperation with Viagogo.
Season 2011/12: 20,259 (98.7%)
Season 2012/13: 29,078 (94.8%)
Season 2013/14: 29,176 (95.2%)
Last updated 18.11.2013, Source: http://www.transfermarkt.de/
Photos
SGL Arena Location Map
Comments